BLUE
In the beginning. In the beginning was the word and the word was blue. Skyblue blue. It was blue. As the face of the earth from space. Blue is true as heavenly light, swirling smoke or dancing dervishes, spinning light into matter and clouds into form. Liquid light. Organic blue. 
The eternal void so blue, dancing through time-space blue velvetty fountains of bubbling joy. 
Guardian of Knowledge, blue is the greatest of secrets. Simple as new love or morning kisses, looking up at the blue and perfect equilibrium attained again, timelessly becoming… blue. 
The essence of blue.
Blue Fluted
poetry by Claus Ankersen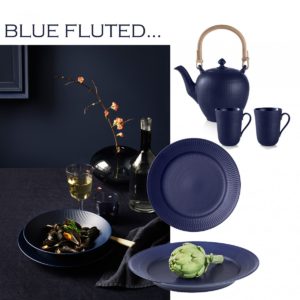 Artikel
BLUE poetry by Royal Copenhagen
Beskrivelse
BLUE In the beginning. In the beginning was the word and the word was blue. Skyblue blue. It was blue. As the face of the earth from space. Blue is
Forfatter