Dagens plakat har ikke blot et fantastisk budskab, men også et fantastisk udtryk. Plakaten fås i flere farver og jeg synes den er smuk.
Plakaten er fra PeanutOak Print
Today's poster have not only a great message, but also a great expression. The poster is available in several colors and I think it is beautiful.
The poster is from PeanutOak Print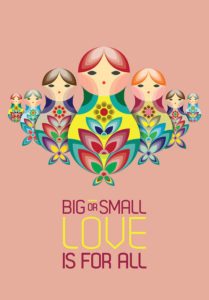 Artikel
Big or Small Love is for All – Dagens Poster
Beskrivelse
Dagens plakat har ikke blot et fantastisk budskab, men også et fantastisk udtryk. Plakaten fås i flere farver og jeg synes den er smuk. Plakaten er fra PeanutOak Print
Forfatter