Godmorgen… -så er der morgenkaffe!
By Malene Marie Møller — January 26, 2013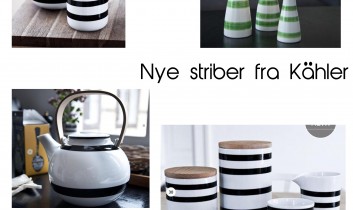 Har du set Kählers nye striber? Omaggio serien har ynglet, og det er skøn yngel!
Tekande, stempelkaffekande, mælkekande, kopper, skåle og krukker med trælåg.
Se bare her, jeg har dækket op med levende lys og frisk kaffe… Kan du li' det?

Du kan se alle nyhederne fra Kähler i deres katalog her: iboligen.dk
Have you seen the new stripes from Kähler? The popular Omaggio series has grown!
Now you cn get a beautiful Teapot, coffeepot, milk jug, cups, bowls and jars with wooden lid.
Look here, I have set the table with candles and fresh coffee … Do you like it?
About Author