Lav din egen smukke Geoball – D.I.Y.
By Malene Møller Hansen/ Indretningsdesigner — October 15, 2012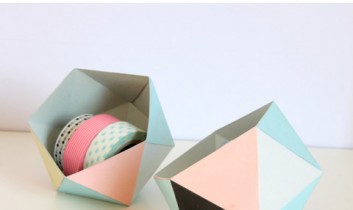 Har du efterårsferie? Savner du små hyggelig D.I.Y. projekter som du kan kaste dig over, enten sammen med dine børn, alene eller med et par venner? Jeg ser det som min fornemmeste opgave at give dig nogle fede og let tilgængelige D.I.Y. projekter i denne uge. Jeg lægger ud med denne skønne geometriske "skål" som du selv, kan downloade og folde. Anvend den som vist på billedet eller saml et par stykker og lav en smuk uro.
1. Download skabelonen her
 2. Print ud på kraftigt papir
3. Klip ved de stiplede linjer
4. Fold den som på billedet
5. Påfør lim på felterne markeret med tal
English:
1.Download the template here
2.Print out on heavy paper
3.Cut along the dotted lines
4. Fold it like the picture
5. Apply glue to the fields marked with numbers
                                    Source: I got the idea from this lovely blog:
Zugalerie.blogspot.fr
Are you so lucky to have your autumn holiday this week? Do you miss  some small cozy D.I.Y. projects that you can have fun with, either with your children, alone or with a few friends? I see it as my foremost duty to give you some cool and easily accessible DIY projects this week. I start off with this beautiful geometric bowl that you can download and fold.