Bogstaver til væggen
By Malene Møller Hansen/ Indretningsdesigner — September 28, 2012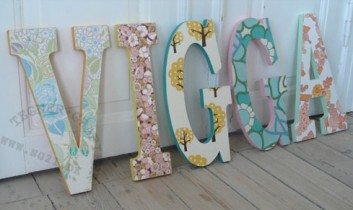 Jeg er vild med bogstaver på væggen, hvad enten det er gamle facadebogstaver eller nyfabrikerede. Bogstaver giver kant, og kan skabe et råt factory look. Men bogstaver kan også skabe et cute og vintageagtigt look, hvis de bliver malet i en sød farve eller tapetseret. NO21 er en webshop hvor du kan få designet de bogstaver du ønsker, i den form og farve du ønsker. Jette Isaksen skærer bogstaverne selv i MDF og dekorerer dem efter ønske. Hun kan også skærer hele dit barns navn ud i en sammenhængende tekst, som virkelig ser fint ud på dit barns værelse. Jeg er vild med Jettes arbejde, og synes hun har en fantastisk evne til at designe noget unikt. Jeg gad i hvertfald godt eje et navn på mine børns værelser♥
Smut forbi hendes webshop og se nærmere, men pas på man bliver let fristet! Jette har også en meget inspirerende blog: Snullemor, absolut også et besøg værd!
I am crazy about letters on the wall, whether it's old facade letters or new fabricated. Letters gives edge, and can create a raw factory look. But letters can also create a cute and vintage like look if they are painted in a sweet color or tapestried. NO21 is a shop where you can have designed the letters you want, in the shape and color you want. Jette Isaksen cut the letters her selves in MDF and decorate them upon request. She make your child's name into a coherent text that really looks fine in your child's room. I am crazy about Jette's work and think she has an amazing ability to design something unique.
Swing by her web shop and take a closer look, but be careful you are easily tempted! Jette also has a very inspiring blog: Snullemor, definitely worth a visit!