Hyggelige hylder
By Malene Møller Hansen/ Indretningsdesigner — September 23, 2012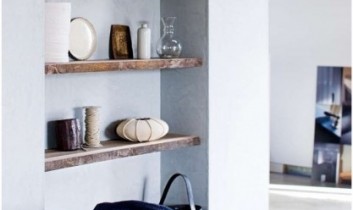 Jeg arbejdede for nogle år siden på Noa Noa's hovedkontor i Kvistgård. Noa Noa's hovedkontor er det smukkeste sted jeg har arbejdet. Det ligger i smukke naturskønne omgivelser og selve huset er charmerende, herskabeligt og virkelig flot. Kantinen var det hyggeligste sted. Her var grupper af gamle borde omgivet af slagbænke og gamle stole. Puder og tæpper gjorde sit til at sprede en hjemlig stemning. Men hyggeligst af alt, var de hylder som bar på alle designeres hjembragte souvenirs fra deres inspirationsrejser.
Hylder kan nemlig noget, de kan fortælle en historie. Hvad enten du fylder dem med bøger, souvenirs, billeder eller andet nips, så bringer de en oplevelse og en historie med sig.
Source: Pinterest
Some years ago I worked at Noa Noa's headquarters in Kvistgård. Noa Noa's headquarters is the most beautiful place I've ever worked. It's located in beautiful natural surroundings and the house itself is charming, sumptuous and really beautiful. The canteen was the coziest place. There were groups of old tables surrounded by benches and old chairs. Pillows and blankets did its best to spread a homely atmosphere. But coziest of all, were the shelves at the walls, that carried all of the designers souvenirs from their inspiration trips.
Shelves can tell a story. Whether you fill them with books, souvenirs or pictures, they bring an experience and a history.