Kay Bojesens smukke Grand Prix bestik relanceres
By Malene Møller Hansen/ Indretningsdesigner — August 21, 2012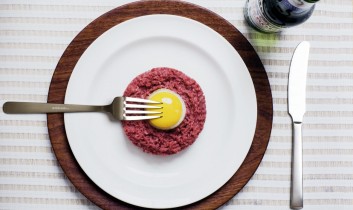 Kay Bojesen var i virkeligheden ikke designer, men håndværker. Han brugte ikke tid på at tegne hans ting, men lagde vægt på at de skulle formes, arbejde og fungere. Og det var vigtig for ham, at de var til at holde på, holde ud og holde af – meget smukt og simpelt synes jeg.
Kay Bojesen var af den overbevisning, at brugsting affødes af behov og ikke æstetik og overvejelser, fordi bestik er redskaber.
Kay Bojesens bestik Grand Prix kom i 1951 på verdensudstilling i Milano. Sidste år genopstod Grand Prix bestikket i stål, og jeg synes det er så smukt i al sin enkelthed.
Kay Bojesen was a craftsman, not a designer. His works were never drawn, they were shaped to work and perform.
To hold and behold. To like.
He knew that utensils are born from demand, not from aesthetic reflection. Flatware were tools!
In 1951 his silverware took the Grand Prix at the world exhibition in Milan. Last year it reappears in steel in the original shape.