Gør noget vovet og elsk det!
By Malene Møller Hansen/ Indretningsdesigner — July 30, 2012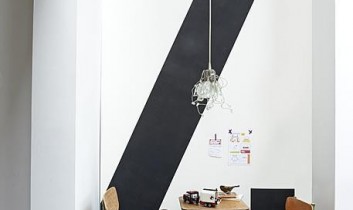 Regnen siler ned og det lyner og tordner. Jeg har brugt det meste af dagen på at indrette en butik, og er kommet hjem med kriblen i fingrene. Jeg har lyst til at der skal ske noget nyt, noget vildt måske endda noget vovet! Jeg har lyst til at male grå eller sort på en af mine væg, men det går slet ikke, stuen ville ikke kunne bære det. Men hvad nu, hvis je smuttede forbi malerbutikken i morgen og købte en farveprøve og gjorde som på billedet herunder! Det er da fedt ikk?
Source: Pinterest

The rain pours down and it's a thunderstorm out there. I've spent most of the day decorating a shop and now when I got home my fingers are tingling, I have an urge to change my livingroom, do something wild, even daring! I want to paint a wall dark grey or black, but it would be to dramatic in my living room.I could of course do something else, I could Paint one large letter on my wall like on this picture! Isn't  cool?