Et dejligt gensyn med Tina Bardina
By Malene Møller Hansen/ Indretningsdesigner — July 29, 2012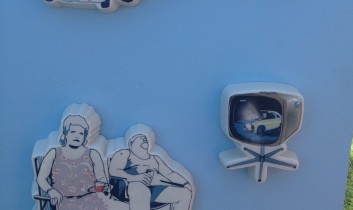 Sidste weekend slog jeg et smut forbi "Ovnhus" messen i Rørvig. Jeg var ikke helt så begejstret denne gang, synes der manglede noget nyt og lidt af de skæve designere. Mens jeg gik og lurede standende igennem, dukkede der pludselig et velkendt design op. En designer som jeg husker, at jeg var MEGET begejstret for, da jeg sidste år stiftede bekendtskab med hende for første gang. Jeg skrev faktisk om kunstneren i september sidste år, hun hedder Tina Bardina, kan i huske det? hvis ikke, så se her: "Tina Bardinas skæve univers".
Det var fedt at møde Tina, hvis arbejde jeg virkelig beundre. Tina laver de her skønne 3D illustrationer i stentøj. Illustrationerne stammer fra rigtige fotos som Tina selv har taget. Billederne bliver tegnet op i et tegneprogram, hvorefter de bliver printet og brændt fast på selve stentøjs formen. Et dejlig skævt, humoristisk og meget innovativt design. Hvad synes du?
Tina Bardina laver også lamper og vaser som tydeligt er inspireret af 50′ernes form og farver. Jeg er ret vild med vaserne og loftlampen som du kan ane på billedet, som jeg tog på hendes stand her:
- og så er der jo SKY lamperne, som jeg bare elsker, de er så fine, og selv når man står helt tæt på, kan man ikke lade være med at tvivle på, om de nu også er keramiske, de er nemlige lige så stoflige at se på i virkeligheden som på billederne.
Last weekend I went by the yearly "Ovnhus" fair in Rørvig. ( A pottery and stoneware fair in Denmark) I was not so excited as I was last year. I missed some new and quirky designers. Suddenly as i walked around I spotted a familiar design. A designer that I remember that I was VERY excited about last year. I actually wrote about the artist in september last year, her name is Tina Bārdiŋa, do you remember my post? if not, then you can see it here: "Tina Bardinas skæve univers."
It was great to meet Tina, whose work I really admire. Tina makes these beautiful 3D artwork in stoneware. The illustrations are drawn from real photos taken by Tina herself. She takes runs the photo trough a drawing program, after which they are printed and burned onto the stoneware. A lovely humorous and highly innovative design. What do you think?
Tina makes lots of beautiful things as you can see at the photos i took that day. I'm also very much in love with the Cloud lamps on the last photo.
You can see more of Tina Bardinas art here: Tinabardina.dk