Cement lampe
By Malene Møller Hansen/ Indretningsdesigner — April 13, 2012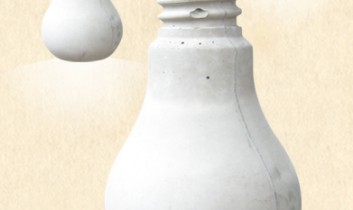 Tjek denne rå lampe. Lampen er lavet af cement og vil være virkelig flot hængende i grupper elle bare enkeltvis. Selve lampen er 15 cm i længden og 10 cm i bredden. Jeg er helt vild med den. Jeg forestille mig en gruppe af dem hængende i forskellige længder over spisebordet, eller tre stk. i et hjørne i min stue.
Lampen koster ca. 450 kr. og kan købes hos en ret fantastisk webshop ved navn Caravan.
Check out this cool lamp. The lamp is made of concrete and will be really nice hanging in groups or just individually. The lamp is shaped lie an oversize bulb and it is 15 cm in length and 10 cm in width. I absolutely love it. I imagine a group of them hanging in different lengths over the dining table, or three pieces in a corner in my living room.The concrete bulb lamp costs 49£ and can be purchased from a pretty amazing shop called
Caravan.